Acquisition Professionals (AP) LLC is an Economically Disadvantaged, Woman-Owned, HUBZone small business. Acquisition Professionals LLC was founded in 2014 by President/CEO Luwanna K. Clark. We are located at Quantico Corporate Center in Stafford, Virginia. AP LLC supports federal, state and local agencies in several core business service areas to improve efficiency, create better business practices, understand and navigate through ever-changing regulations, priorities, and burdensome processes by creating sustainable and adaptable mission focused solutions.

Our Vision
Our vision is to become a nationally recognized premier solutions advisor and trusted partner for our clients. Demonstrating the highest standards of integrity, innovation, and expertise while providing an enriched and rewarding environment for our employees.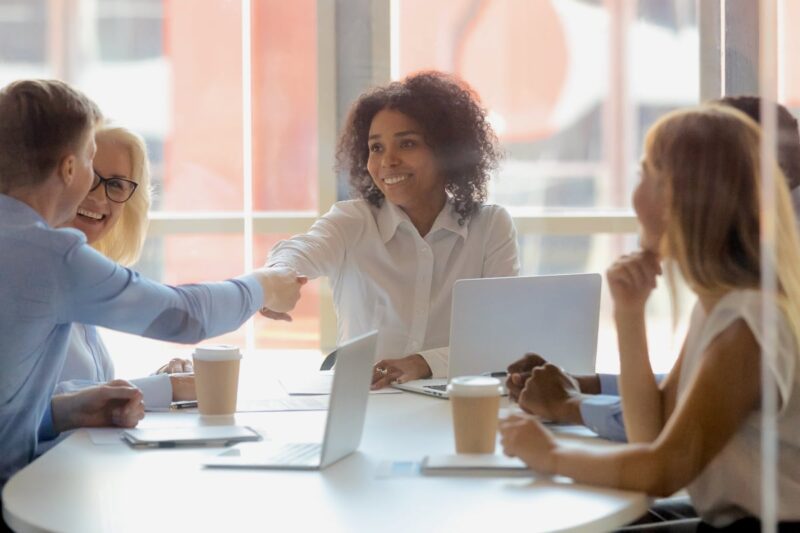 Our Mission
Acquisition Professionals LLC is committed to providing world-class professional services to our clients. Our service methodology encompasses quality, ingenuity, agility and unparalleled customer service. We are vigilant in understanding our client's needs and translating that into actionable solution-oriented results.
Our Values
Unparalleled Customer Service
Creating better client experiences requires us to (1) listen first; (2) set expectations early and often; (3) be thorough; (4) ask questions; (5) monitor and measure effectiveness; and (6) be relentless to client satisfaction.
Agility
Understanding that mission and programs change rapidly, we believe in being nimble and responsive to ever changing requirements and objectives.
Expertise
We provide skilled and knowledgeable professionals, in their respective fields, to our clients and encourage annual professional development to keep pace with industry trends and best practices.
Ingenuity
We believe in being pioneers of resourcefulness and being the leader and driver of new trends and sustainable methodologies.
Innovation
There is always more than one way to do something – therefore we do things differently and do different things to satisfy our client's requirements.
Integrity
Demonstrating corporate moral and ethical philosophies in our behavior as trusted advisors through committed and dedicated service.
Quality
Radiating the highest standards through intelligent and deliberate efforts to exceed client expectations is everyone's responsibility.
AP Leadership
Luwanna Clark
President/CEO
Luwanna K. Clark is the founder, President/Chief Executive Officer (CEO) for Acquisition Professionals (AP) LLC. Ms. Clark has more than 27 years of acquisition and program management expertise. Prior to founding AP, Ms. Clark served as a Chief at the Federal Bureau of Investigation (FBI) where she was responsible for managing the FBI's Information Technology Contracts Unit, the National Security Contracts Unit, and the Headquarters Contracts Unit. She also served as the Source Selection Authority on many high-visible Information Technology and other professional services contracts with an Unlimited Warrant.
Ms. Clark holds a Master's Degree in Acquisition Management from American Graduate University; a Bachelor's Degree in Law and Society; an Associate's Degree in Pre-Law from Northern Virginia Community College; and a Master's Certificate in Contracting from George Washington University. She is a Certified Professional Contracts Manager (CPCM) from National Contracts Management Association (NCMA) and is FAC-C Level III Certified and FAC-PM Level II Certified.
---
Rita Hardy-Thompson
Corporate Program Manager
Mrs. Rita Hardy-Thompson serves as Acquisition Professionals LLC's Corporate Program Manager since joining Acquisition Professionals in 2018. Mrs. Hardy-Thompson has a proven track record in managing federal procurements, solving complex problems and strategically focuses on client engagement bringing innovative solutions to our government clients. Mrs. Hardy-Thompson coordinates the full range of acquisition, project and financial management activities, operations, and human resources for Acquisition Professionals.
Before joining Acquisition Professionals LLC, Mrs. Hardy-Thompson worked in many federal agencies as a government contracting professional employee and as a government contractor. Her work career spans supporting UNICOR Contracting for 10 years and Bureau of Prison for 20 years. After retiring from the Federal government, she provided acquisition consulting expertise for the Department of Defense (1 year)  and Federal Bureau of Investigation (9 years).
---
Felicia Mourning
Program Manager
Felicia Mourning serves as Program Manager for Acquisitions Professionals LLC with 15 years of experience providing full life-cycle project and program management. She is a Certified Associate Project Management (CAPM) professional and supports Department of Health and Human Services (HHS), Food and Drug Administration (FDA), Department of State, US Department of Agriculture, Walter Reed National Military Medical Center (WRNMMC) and the Federal Aviation Administration (FAA). As Program Manager, Ms. Mourning coordinates and monitors the scheduling, pricing, quality, and technical performance of projects and programs.  She is experienced in every aspect of business development, capture management, including technical, finance, and human resource management. Ms. Mourning is currently pursuing a degree in Business Administration at the University of Maryland.
---
Norman "Bud" Pryde
Security Officer
Norman "Bud" Pryde joined Acquisition Professionals in 2017 and serves as the Corporate Security Officer. Mr. Pryde is a veteran of the United States Air Force having served 27 years of honorable service to his country. He has over 39 years of experience in both Military and Industry with 13+ years as a Security Officer.
Mr. Pryde has an Associate in Arts Degree in Logistics Management from the Community College of the Air Force, a Business Administration Degree in Management Studies from University of Maryland University College, and a MAR in Pastoral Ministries from Liberty University.
---
Vanessa E. Collins
Human Resources Director
Vanessa E. Collins has 20 years of progressive Human Resources experience with over 10 years of experience in Federal contracting. Ms. Collins has a proven ability to forge strong partnerships with managers, employees, and co-workers throughout the organization. Mrs. Collins supports the company's onboarding, benefits, talent management, employee relations and organizational policies.
Prior to joining Acquisition Professionals, LLC, she managed the Human Resources functions in small to mid-size companies working hands-on with management teams in industries including DoD Contracting, Sports & Entertainment, and Security.
Ms. Collins has a Bachelor of Science in Business Administration from Strayer University.